JavaScript needs to be enabled to view this page properly.
Stepic for Ableton Live
Step and Modulation Sequencer Powerhouse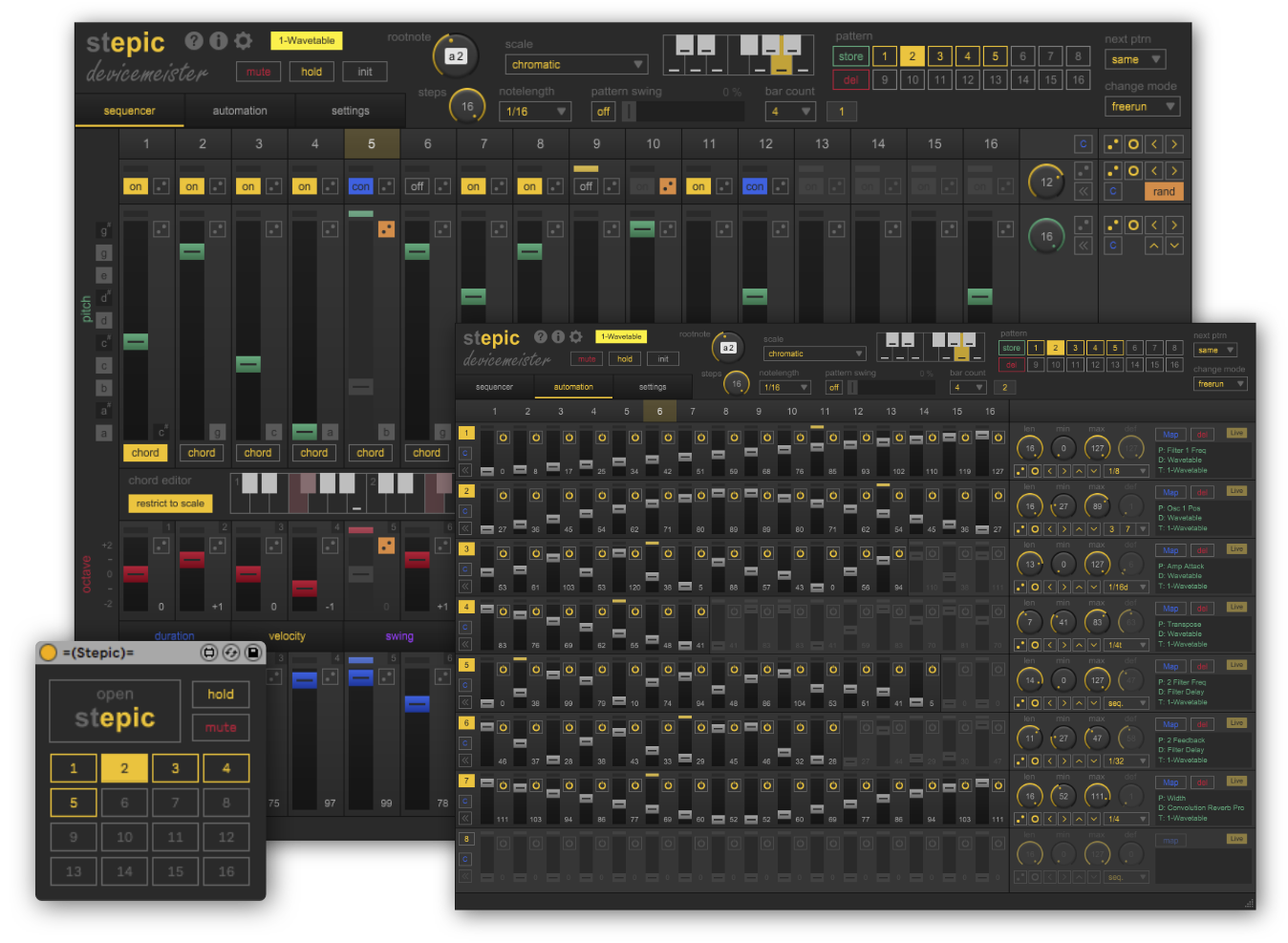 What makes Stepic so special?
Stepic is a comprehensive step and modulation sequencer designed as a Max for Live midi effect for use in Ableton Live. To make Stepic's extensive feature set quick and intuitive to use, it was equipped with the user interface of a VST3 audio plug-in.

8 independent modulation sequencers and over 200 randomizable device values guarantee that Stepic always stays fresh. The unique combination of features and an outstanding workflow let you go far beyond the ordinary.
Stepic has the 'Full Package'
In over 20 years of music production I've always had a great passion for step sequencers. I love their experimental "hands-on" character where you just tweak some knobs and within seconds get completely new and exciting results.

But there was always something missing in all the models. What one could do, another could not. So I've decided to create my own step sequencer with all the features I always wanted – and even more :-)

Key Features
Stepic is loaded as a midi effect into Ableton Live. Therefore it operates in the same track as the instrument to be played.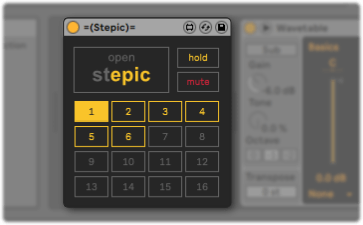 Store your ideas in up to 16 patterns. Use pattern concatenation for building sequences far beyond 16 steps.

Always stay in key by using Stepic's scale system. Choose from one of the predefined scales or create your own.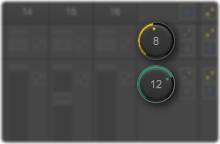 Keep it interesting and mix things up. For each section (Pitch, Octave, Duration, etc.) a separate sequence length can be defined.

Chord Play
Stepic is polyphonic. The chord editor with its 6 octave range lets you set individual chords for each step. Use Chord-Copy to quickly and conveniently copy chords between steps.


Bring the 8 modulation sequencers into play and modulate any parameter within your Live project. Create unique polyrhythmic effects by assigning tracks their own sequence and note lengths.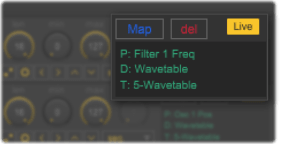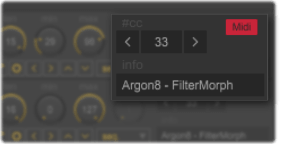 Each modulation sequencer can modulate either Live & VST parameters or MIDI CC values. MIDI CC modulation is automatically sent to the device controlled by the Live MIDI track, e.g. your hardware synthesizer.

Control the probability with which notes are played. Choose between different modes and give sequences the variation you need.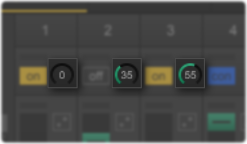 Note Repeat
Add a hypnotic touch to your sequences and explore Stepic's Note Repeat feature. Transpose Mode, Offset & Range help you hit the sweet spot.


Optimize and speed up your workflow. The clipboard function lets you copy sequences between sections and patterns with just two clicks.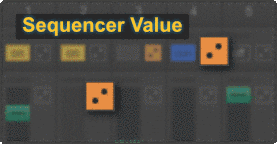 Create variety and unpredictable moments by utilizing the over 200 randomization functions.

Users love Stepic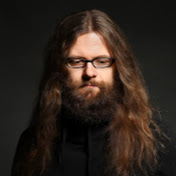 "Stepic combines a unique set of features in an intuitive interface. My favorite feature is the 8 automation tracks. The ability to modulate any live or midi parameter lets you get creative."
youtube.com/MartinStürtzer
"Stepic covers each individual aspect of sequencing. The numerous randomization features let you get very crazy results very quickly."
youtube.com/AntidoteAudio

"Stepic comes damn close to what I usually do with my Digitone. Its polyrhythmic capabilities and workflow are outstanding."
strelokk.bandcamp.com
Full Feature List
16 step sequencer.
Per section adjustable Sequence Length (Pitch, Octave, Velocity, etc.)
16 Pattern Storage.
Pattern Concatenation.
Extendable pattern length up to 16 bars.
Maximum sequence length: 4096 steps (16 steps x 16 bars x 16 patterns).
Step Connect option for merging two or more steps into one.
Fully customizable scale system.
Per step Chord Play.
6 octave Chord Editor for comfortable note input.
Option to tie chord notes to the current scale.
Note Repeat section
Note-On/Off Probablity
Over 220 randomization options.
Value Randomization for Pitch, Octave, Duration, Velocity, Step Swing, Divider and modulation values.
Configurable ranges for Value Randomization.
Clipboard function.
Per section Quick Dice for fast & randomized value input.
Per section Retrigger options (note & modulation sequencers).
Per section Random Step Order options.
Per step Note Offset.
Per step Note Divider option.
Adjustable Root Note.
8 independent modulation sequencers for value modulation.
Modulation Targets: Ableton Live Parameter or MIDI CC.
Individual Sequence and Note Length for modulation sequencers.
Custom Note Length option for note- and modulations sequencers (Range: 1/99 to 99/1).
Pattern Change Modes: Free Run, Retrigger.
Pattern Change via Ableton Live's Automation feature.
Pattern Change via Stepic's Max for Live device UI.
Ableton Live preset support (save an instance of Stepic as Live preset).
Fully scalable user interface.
System requirements
Microsoft Windows or Apple macOS according to Ableton Live 10, 11 specifications.
Ableton Live 10, 11.
Max 8 or Max for Live 8.
Hardware requirements according to Ableton Live 10, 11.
Satisfaction Guarantee
30-Days Money Back
I am absolutely convinced you will love Stepic. And should you need some help, i am always here to help out. However, if you are still not satisfied, you can request a full refund anytime within 30 days of purchase.